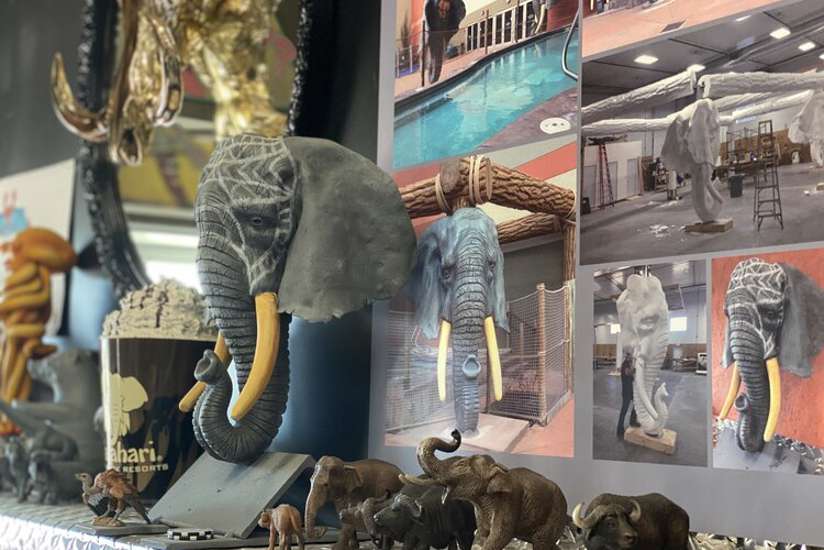 Life-size statues or real-life problems? The Kalahari Theme Shop meets challenges with creativity
These days especially, we all need to be a little more creative.  
Much of what you will find at Kalahari Resorts has been created. Our resorts are filled with beautiful, authentic art purchased directly from artisans in Africa. But there are some things you just can't purchase – such as the lifelike bronze animals found pictured with your kids in your camera roll. 
The elements that make the Kalahari experience unique are designed and created by our team of talented artisans. Everything from signage to statutes is customized and manufactured in house. The minute you step your foot in the door, you're surrounded by walls covered with ideas and inspiration. 
At Kalahari, when there's an idea, we make it happen! Whether it's a creative inspiration or an everyday problem that needs solving, the Kalahari Theme Shop can bring it to life. Aside from our waterparks and theme parks, this little hidden gem is one of the coolest places around.
From high-tech 3D printers to good old-fashioned chisels and welding machines, this space is a designer's paradise. We've constructed huge animals and full size trees, and while these creations now live in our resorts, the smaller scale models, remaining paint colors and raw materials remain on the shelves of the shop waiting to become our next creation.   
Lately, our team has been busy creating elements for our newest resort opening in November in Round Rock, Texas. Everything is designed to create an experience that makes coming to Kalahari unique from any other resort or convention center.    
But our creativity doesn't stop with the production of large-scale statues and other elements that help create the right ambiance. The Kalahari Theme Shop team uses its creativity to solve other problems, too.
The increased need for safety throughout all of our properties has prompted a new challenge for our theme shop. We couldn't find the exact items we were looking for available from merchants, so we worked on designing products with all the best components we could find and are manufacturing a superior product. Who knew we could be so excited about custom sanitation stations and touchless water dispensers? 
Challenge prompts opportunity and ingenuity. We've all adapted to new ways of doing things over the past few months. 
What ideas have you had in the back of your mind? What's stopping you? Go make it happen!  Better yet, come visit us, relax and be inspired to go beyond what you thought possible. Kalahari Resorts is a world filled with creativity and possibility.