Tom Foolerys Adventure Park
80,000 square feet of family fun and excitement with an unprecedented array of indoor attractions and activities! When it's time to dry off or you just want to up the thrill level, this adventurous park will have just what you need. Add to your stay or purchase day passes.
Rides Hours
Daily: 11:00am - 11:00pm

Arcade Hours
Daily: 9:00am - 12:00am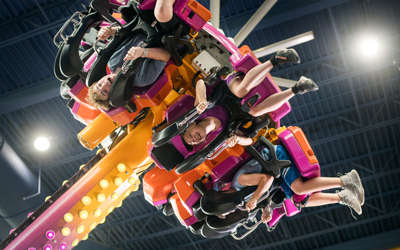 New!
G-Force One
The G-Force One flips, swings and twirls you around while swinging like a pendulum.
Height Requirement: 57 inches, 42 inches with Adult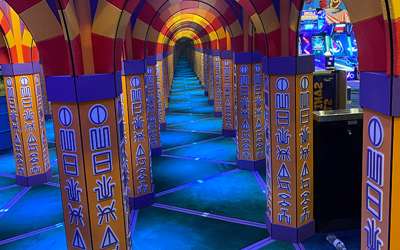 Cave of Mirrors
This Cave of Mirrors will trick you into seeing something that is not there. But be careful. Every wrong turn will put you further into the cave... to the point of no return. Will you get out?
Look Twice
Is that real or a reflection?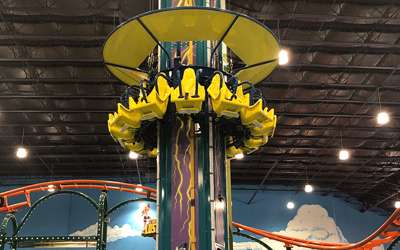 Maximum Foolocity
This whirly ride goes 50 ft in the air, up, down, and all around! Can you handle that kind of spin?
Up, Down, or All Around?
No one knows...
Height Requirement: 42 inches
Scream'n Centipede
Put your hands in the air and scream! Or Don't! You won't want to when you experience this thrilling indoor roller coaster. Are you ready?
Try Not to Scream:
I dare you
Height Requirement: 47 inches, 36 inches with Adult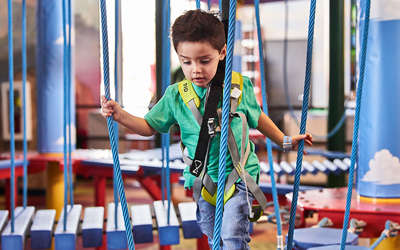 Tarantok Basecamp
Now the little ones can challenge themselves on their very own ropes course. Closed-toed shoes required.
Being Little:
Just Got a Little More Awesome
Height Requirement: Under 48 inches with Adult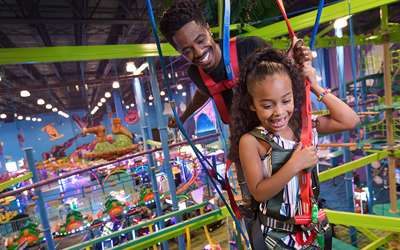 Tarantok Rise
Challenge yourself to the 30', 3 stories high Sky Trail® ropes course! Features dozens of individual climbing elements including a Zip Line! Closed-toed shoes required.
Don't Look Down:
Challenge Accepted
Height Requirement: 48 inches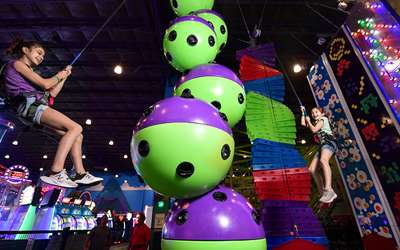 The Cliffs of Foolsanity
Test your resolve and determination to light up the board on Checkerplate, see if you have the spark on the Lightning Crack, or try to climb your way up to Cloud 9. Closed-toed shoes required.
Don't Look Down:
You've Got This
Height Requirement: 42 inches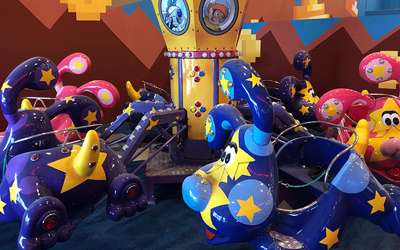 The Puppy Pulsar
Up and down and around and round! Find your Puppy Partner and get ready for this perfectly sized thrill... fit just right for the little ones.
Pick Your Favorite Pup:
Round and Around We Go
Height Requirement: 38 inches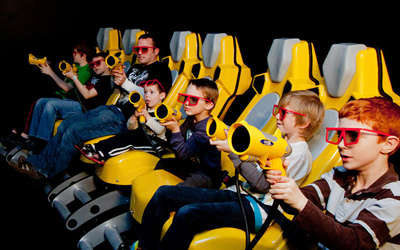 XD Dark Ride
Experience a whole new dimension of virtual reality at the NEW XD Dark Ride 5-D Theater.
5-D Theater:
That's A Lot of Dimensions
Height Requirement: 42 inches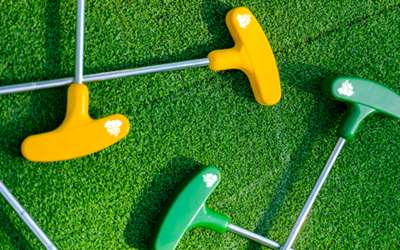 Jungle Mini Golf
We're taking Mini-Golf to the jungle! Tee off at our new mini-golf course!
Enter The Jungle:
Have fun mini-golfing in the wild!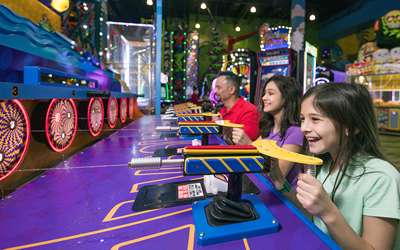 Tom Foolerys Arcade
Tom Foolerys Adventure Park's arcade features the newest, biggest arcade games, simulators, and redemption games for the entire family. It's more than big – it's HUGE! Turn your game winnings into great prizes from our Prize Store!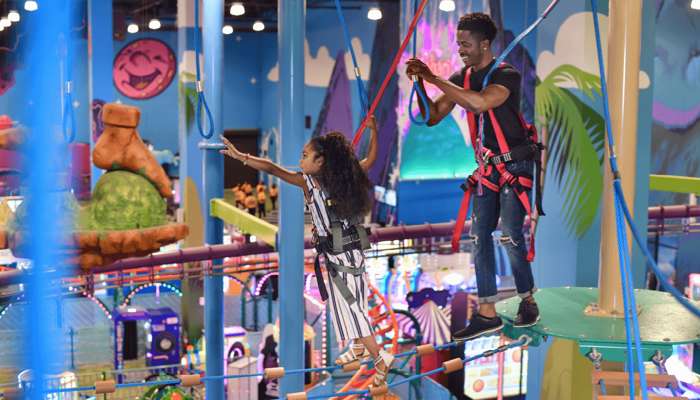 Purchase Day Passes
Not staying at the resort, but still want to play? Enjoy all the fun at Tom Foolerys with a day pass.
Purchase Your Day Passes
Epic Pass Monthly Subscription
GET YOURS NOW: Subscribe to the Monthly Epic Pass at Kalahari. Select the pass of your choice and let the unlimited adventure begin.
Get Your Epic Pass