The Outdoor Waterpark
Closed for the season.
While we bid farewell to the summer season, we've got an indoor oasis of excitement and adventure ready to keep the thrills going all year round! Step inside our indoor waterpark, where it's always 84 degrees and sunny, and discover a world of slides, splashes, and smiles. Thanks for a great summer!
Explore Our Outdoor Waterpark Attractions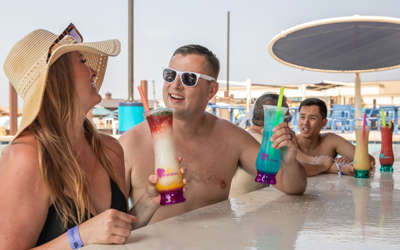 Thirsty Turtle
Now Open! Calling all adults! Get ready to indulge in the ultimate poolside experience with our brand new 1,100 square foot swim-up and walk-up bar. Sip on your favorite cocktails as you soak up the sun, and enjoy the ultimate summer vibes.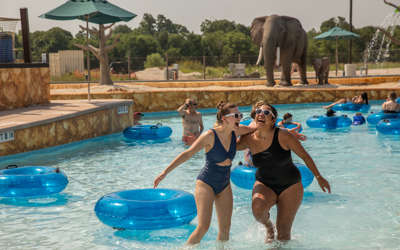 Adventure River
Now Open! Embark on the ultimate lazy river adventure! Drift away on over 900 feet of our brand new not-so-lazy river, perfect for all ages.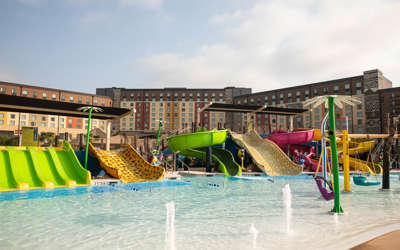 Bugs Burrow
Now Open! Buzz with excitement at our fun-filled water-play area, featuring nine bug-themed slides that are sure to delight. Our water-play area is the perfect spot for kids to cool off and have fun in the sun!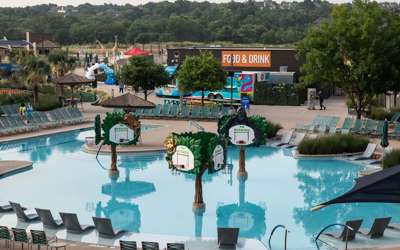 Basketball Pool
Shoot, and score! Athletically inclined adventurers will love the challenge of shooting hoops in this massive water basketball pool. Come shoot your shot - we guarantee you'll have a ball!
Outdoor Grotto Pool & Swim-Up Bar
Immerse yourself in the ultimate Insta-worthy experience at our stunning grotto - available both indoors and out! The swim-up bar is adults-only.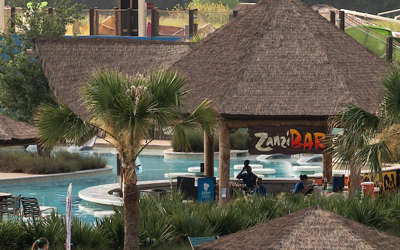 ZanziBar Pool & Swim-Up Bar
Make a splash at our epic outdoor pool and swim-up bar! Whether you're looking to relax and catch some rays on our large sun deck, or dive into the fun with family and friends, we've got you covered.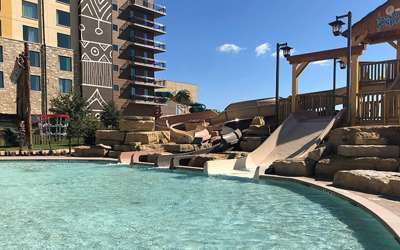 Savannah Springs
For the Little Splashers! This perfectly-sized kid's pool features two slides and a wet swing-set, perfect for little ones to play and have fun.
Waterpark Extras and More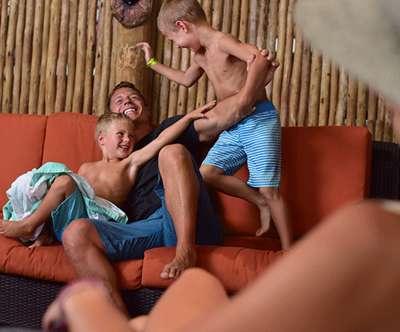 Bungalows & Cabanas
Throwing a party? Need some privacy? Enjoy comfort and convenience right from your own Bungalow or Cabana - perfect for families and groups.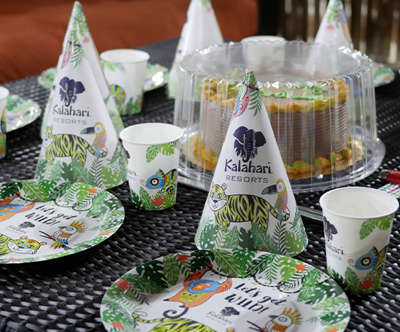 Throw A Party!
Planning a birthday celebration or special event? From wet and wild waterpark fun to thrilling adventures at Tom Foolerys Adventure Park, the possibilities are endless at Kalahari.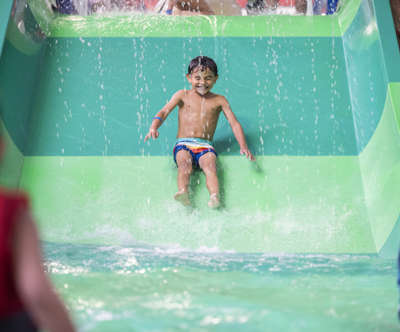 Waterpark Day Passes
Coming for the day? Grab your crew and come splash the day away at our Indoor & Outdoor Waterparks with Daily Admission Passes. Don't forget to bring your own towels!