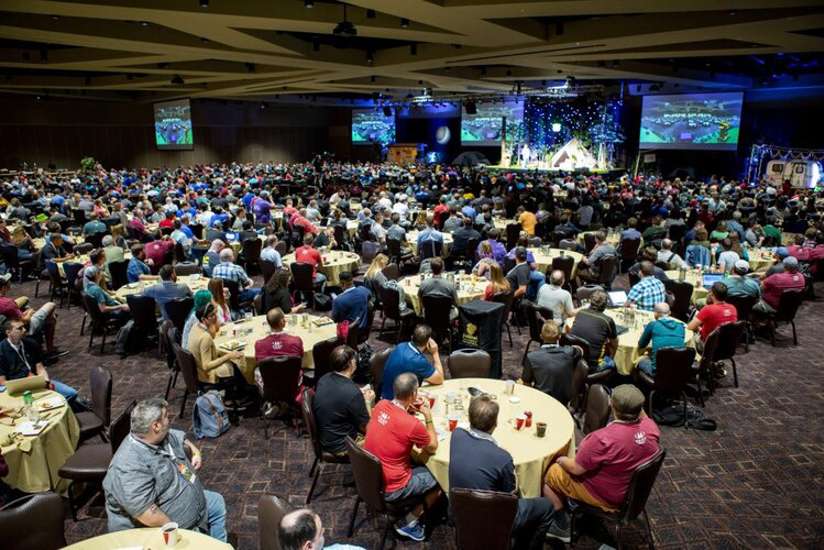 Kalahari Convention Center Grand Opening is a Family Affair
Giant prawns fresh from the lake, house-cured sausage, and all the fresh baked bread Switzerland has to offer.
Wisconsin Dells Facility Doubles in Size to 212,000 Square Feet
The grand opening of Kalahari Resorts and Conventions' $35-million convention center expansion in Wisconsin Dells is truly a family affair. The inaugural event in the doubled-in-size facility is the popular "THAT Conference" – a family-friendly, technology-focused "Summer Camp for Geeks."
The two-year effort to expand Kalahari's Convention Center adds 112,000 square feet of exhibit space, a 52,000-square-foot ballroom and 10 meeting rooms. That boosts the center's grand totals to:
212,000 square feet of total meeting space

Three ballrooms (of 52,000; 20,569 and 17,200 square feet)

45 meeting rooms
"The $35-million investment into the Convention Center will attract valuable business and visitors to the Dells area," says Tifani Jones, Corporate Director of Sales, Kalahari Resorts and Conventions.
THAT Conference Sets Attendance Record
Kalahari Resorts and Conventions has been home to THAT Conference since the event's inception in 2012. Since then, the conference has increased in attendance by nearly 500 percent, growing from 300 attendees to more than 1,700 in 2019.
Known for having dedicated sessions and workshops for attendees' spouses and children, THAT Conference leverages Kalahari's state-of-the-art convention space, along with entertainment and dining options, all under one roof for a remarkable, four-day experience.
"The growing size and flexible space of Kalahari's Convention Center will definitely help us continue to bring the technology community back to the Midwest for connection and conversation," says THAT Conference Founder and CEO Clark Sell.
Embracing the Family-Friendly Amenities
THAT Conference's format is designed to encourage work-life balance and build the next generation of "tech geeks." More than 30 workshop sessions are designed for kids—and several are led by kids. Sessions feature hands-on, activity-based learning in STEM (Science, Technology, Engineering and Mathematics).
While more companies and employers are embracing the benefits of family-friendly conferences and events, Kalahari helps create a combined vacation and conference destination.
Kalahari's conference experience includes fun for the family:
A world-class, 125,000-square-foot waterpark

Indoor adventure park, including bowling, go-karts, arcade, ropes course and indoor ferris wheel, virtual reality, 18-hole golf course, spa and on-site restaurants

The full-service Spa Kalahari

A fitness center

11 dining options
Kalahari's Experienced Staff Enhances Meetings
THAT Conference works with an experienced Kalahari meetings staff to achieve a shared vision of success in the newly enhanced meetings space. Currently, there are more than 400 years of combined meeting experience among Kalahari Resorts teams nationwide.
Kalahari has hosted more than 22,000 groups and booked 1.4 million room nights related to conferences and events across all three of its properties in the Wisconsin Dells, Sandusky and Pocono Mountains. Meeting groups have seen, on average, an increase in attendance of 20 percent at Kalahari properties.
Kalahari Can Make Your Next Conference A Family-Friendly Success
Our team will partner with you to help make any event family friendly. And, along with doubling the size of our convention center in Wisconsin, expansions are also in progress at our properties in Pennsylvania (Pocono Mountains, late 2019) and Texas (Round Rock, November 2020). Call our sales team at 855.411.4605 to schedule your site visit today.