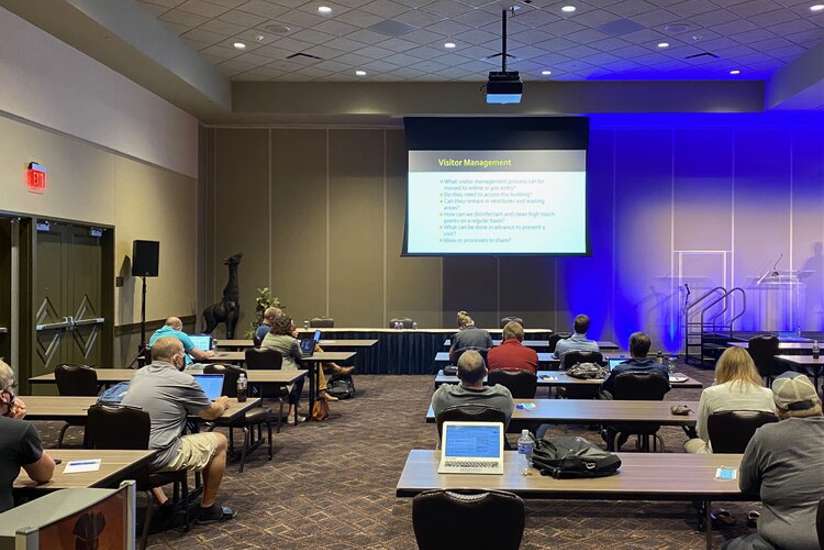 5 Lessons Learned from a Hybrid Event
Educators embrace an in-person and virtual blend
For years, we've been talking about hybrid events. The concept of holding an in-person event while also streaming to online audiences is an attractive option to extend event reach and increase overall registration. The technology is out there, but the hybrid concept seemed to be out of reach for many events, that is until the events industry faced the COVID-19 pandemic. Planners and attendees have been challenged to revisit the way meetings and events are conducted, and for many, events going hybrid is an important option to consider. 
We just wrapped up a successful hybrid event with none other than a group of educators whose industry experienced a shift to 100 percent virtual learning overnight. The group was ready for an in-person gathering as much as the rest of us but, luckily, hybrid was a great solution for this group that wanted to offer options for its attendees.
Jeanne Deimund, the Associate Executive Director with Wisconsin Association of School Business Officials (WASBO), has been planning conferences for years but had never planned a hybrid event before. In fact, this was the first time she planned a virtual event!  
From a seasoned planner who recently hosted her first hybrid event, here are her tips:
Use a conference app. Most materials and communication can be done electronically and made readily available for both in-person audiences and those attending virtually. 

Redesign and re-imagine. Jeanne has been planning events with Christie Bishop, our Director of Catering, for more than five years, but this year they wiped the slate clean and redesigned everything with attendee safety in mind. That included only two people per eight-foot classroom table and only three people per round table for meals. Of course, this takes a lot of space, but with 212,000 square feet, we have plenty of room to work with at Kalahari!

Skip the buffets. Attendees normally love the buffets, but Jeanne was really excited about the additions to our plated options (FYI, Jeanne chose the pot roast!). Food is our secret passion here at Kalahari, and our culinary team went beyond expectations with additional embellishments on the dessert course as a concession to missing their beloved buffet this year. Coffee urns modified by the talented craftsmen in our theme shop created a touchless experience that ensured attendees stayed well caffeinated (and safe) throughout the event.

Hire the Pros. Going live with hybrid and virtual events leaves no margin for error. Jeanne worked with a team at Majic Productions that is familiar with the space at Kalahari. They managed the videography and live production, and Jeanne had dedicated staff to monitor and engage with the online audience by addressing virtual questions with the in-person audience for inclusive discussions.

Simplify name badges. Physical distance is an expectation, so increase the font size on name badges accordingly. Jeanne used large 72-point bold font for first names, put last names in smaller font and removed the organization completely to simplify the badges and allow delegates to easily see names from across the room. This trick also helps to quickly recognize colleagues behind their masks!
Throughout the event, everyone wore a mask during education sessions and respected physical distancing. Onsite attendees felt safe and the two-thirds of attendees who attended virtually felt included and appreciated the opportunity to participate at their own comfort level. Jeanne is already working with the Kalahari team to plan her next event where she will incorporate a virtual presenter.
While her attendees were in session – physically and virtually – making decisions on the outlook for K-12 education this fall, Jeanne set an example of how we can all get back to in-person in a safe way.