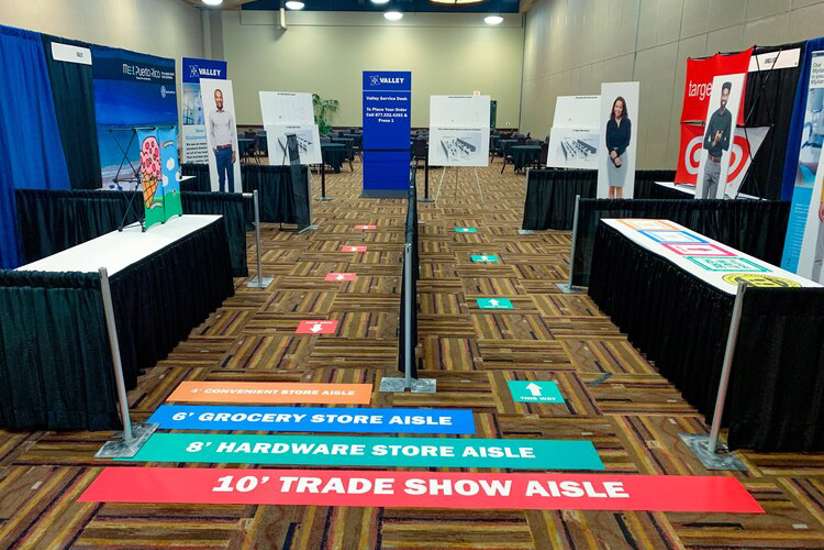 8 tips for post-pandemic exhibit hall floor planning
Return to In-Person Meetings Series – Part 1
There is a whole lot more to planning your events these days. Event safety has always been important, but these days, even the definition of event safety has changed, making the topic front and center for many planners. The uncertainty and evolving conditions over the past months add a new set of challenges to planning a safe event.
When the time is right for you to start planning your next event in a post-COVID world, we are ready to get back to doing what we do best – helping you produce successful events for your organization, your exhibitors and attendees. Luckily, we've been hard at work making changes here at the resort and we're ready to start incorporating your event details.
Along with Valley Expo, we've created a series of resources for you to reference and share with your stakeholders to help plan a safe return to the world of in-person events and live exhibitions. Pandemic aside, there are a lot of components to consider in planning an event – this series will break down this information into topics to consider when planning your event.
First up – Exhibit hall floor plans! 
Exhibits and tradeshows are an integral part of many meetings, where members and industry partners connect to discuss new products, services, and practices, and designing a show floor to maximize physical distancing is part of the new reality. The good news is that not everything needs to completely change!
Exhibit halls are less confining than many places you may already be visiting. At 8 or 10 feet wide, trade show aisles are wider than many grocery, hardware or convenience store aisles. Exhibit booths are 10 feet wide, and high ceilings allow plenty of air flow, which is much less confining than your average grocery store aisle.
At Kalahari, we're fortunate to have A LOT of space to work with! Consulting with your convention service contractor can offer guidance based on the particulars of your event and can assist with ideas you may not have considered.
Discuss these considerations with your service contractor:

Create wider aisles wherever possible, and where it's not possible, consider reducing booth depth to create more aisle traffic space.

Remember access to floor utilities is important. Your service contractor will have knowledge of which plans are workable and which are not.

Spread inline booths apart where space permits.

Arrange booths in quads to help distance booth spacing and allow for plenty of cross aisles to relieve traffic congestion.

Use 8-foot-high booth side drape in place of traditional 3-foot-high side drape to create a barrier between adjoining booths.

Study your overall plan closely to reduce roadblocks and congestion.

Consider multiple entry and exit points rather than a single entrance/exit area.

Indicate directions for aisle traffic both for safety and to let your vendors know what to expect for traffic flow when they are selecting their booth space.
Whatever modifications you make, be sure to communicate these with your exhibitors and attendees so they know your exhibit hall is designed with everyone's health in mind.
And when designing your floor plan, remember every venue and event is different, and simply discussing these items might be hard to visualize. That's why Valley Expo set up a demo of this layout in our convention space.  Check out these photos as reference or set up a time to walk through this set up and discuss your event specifics with us.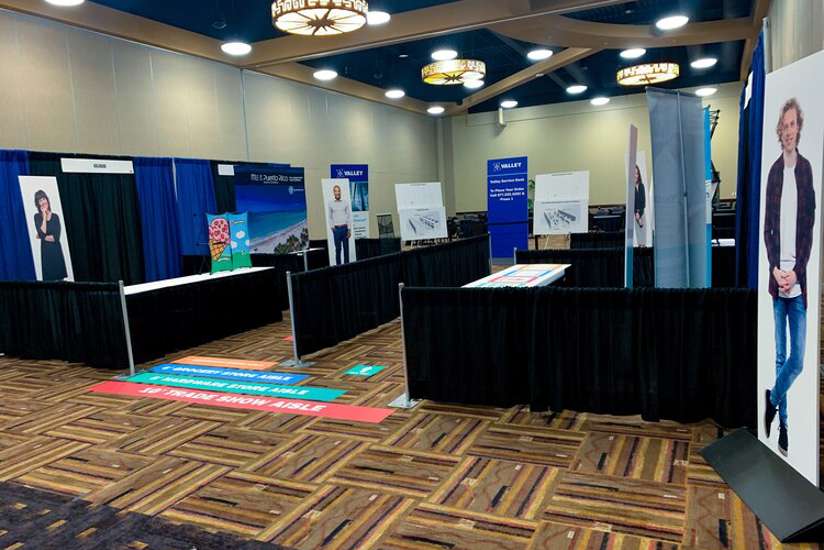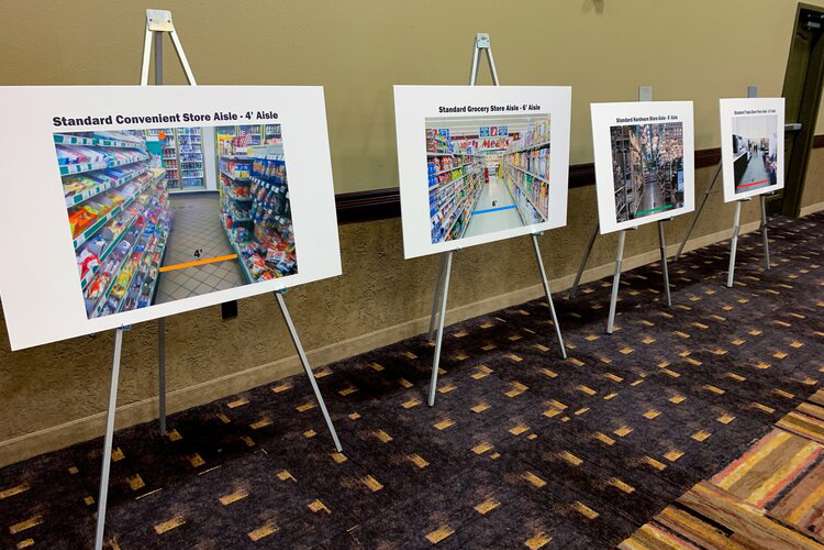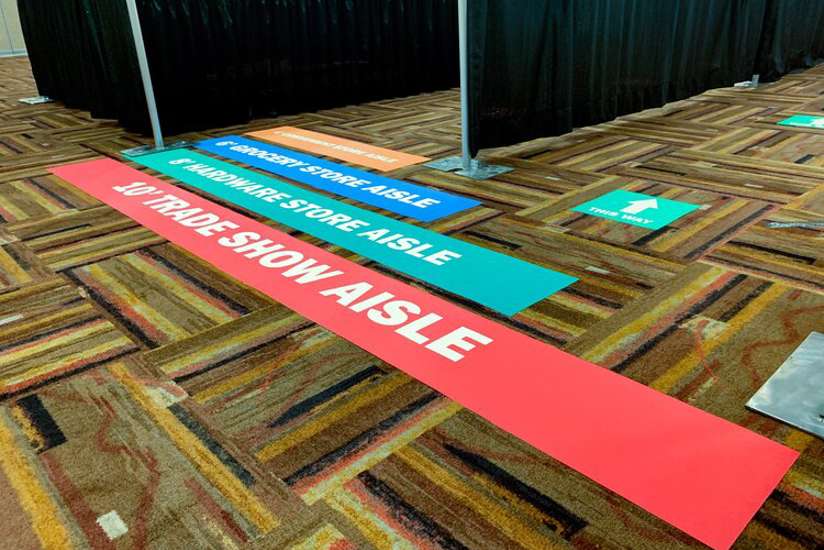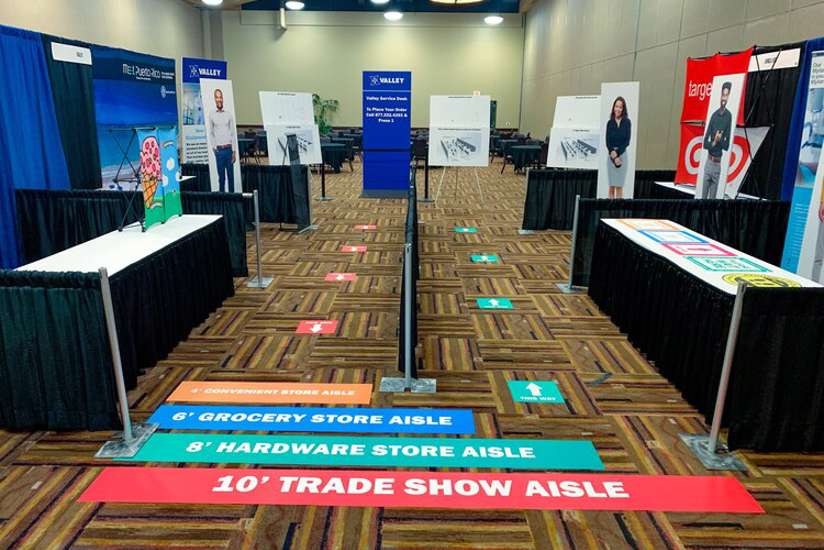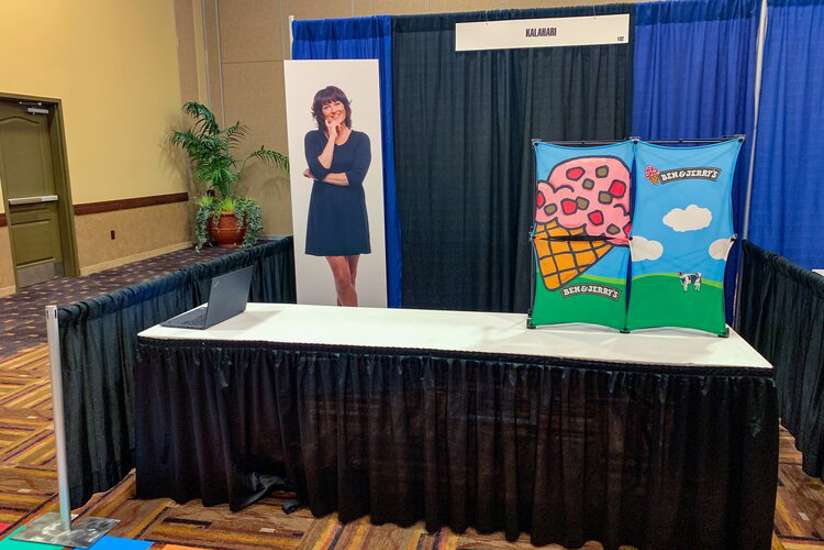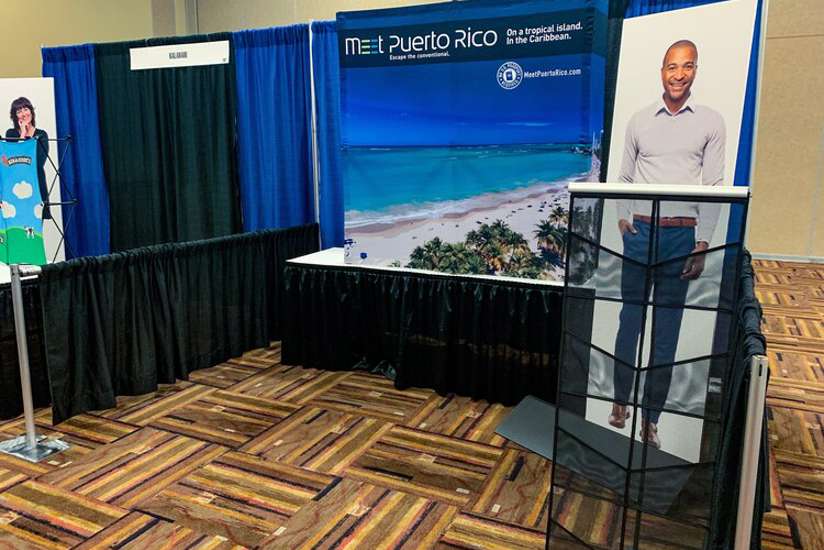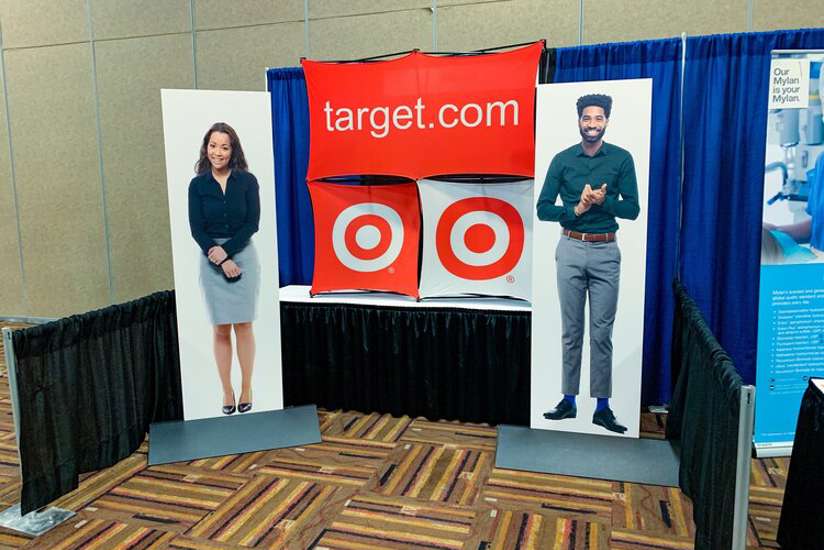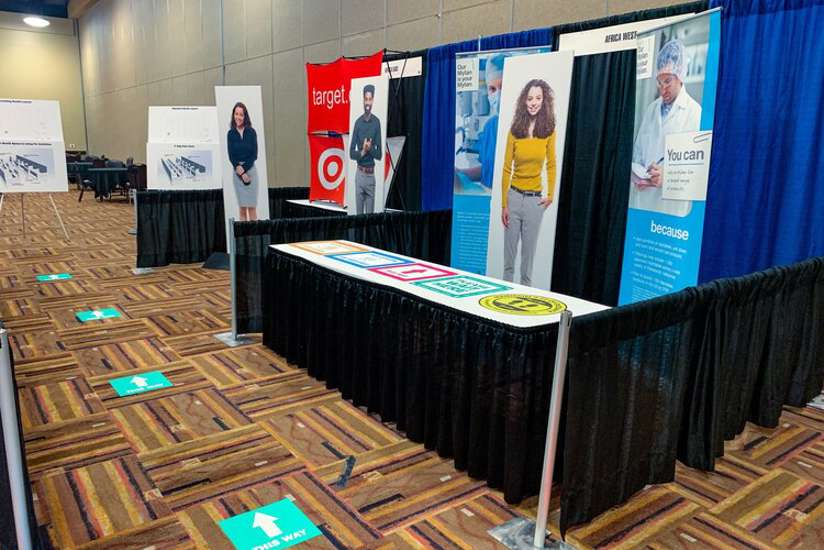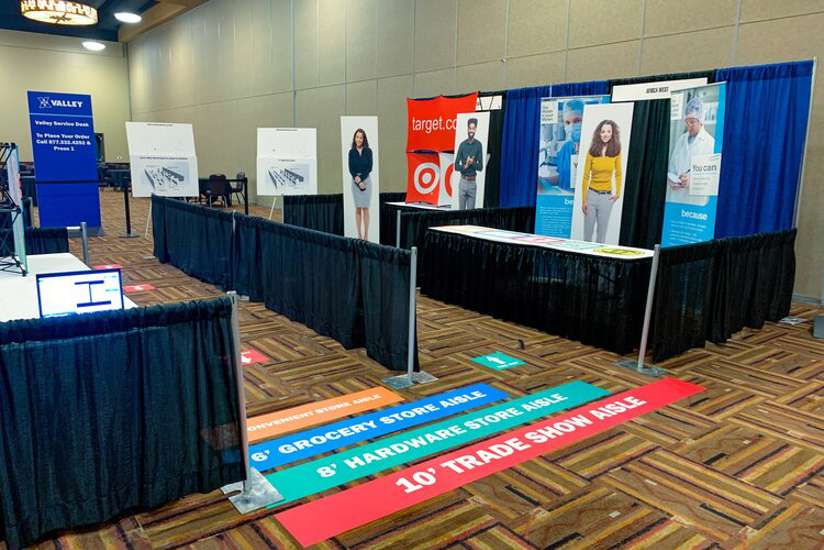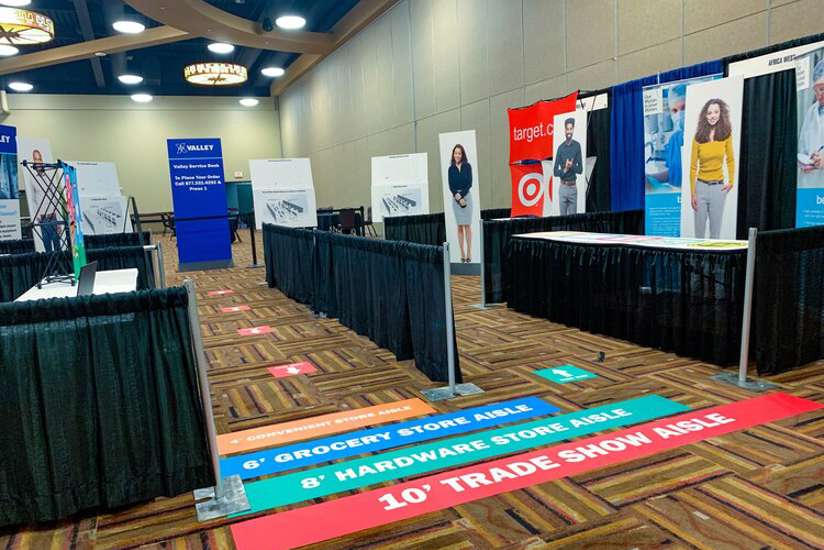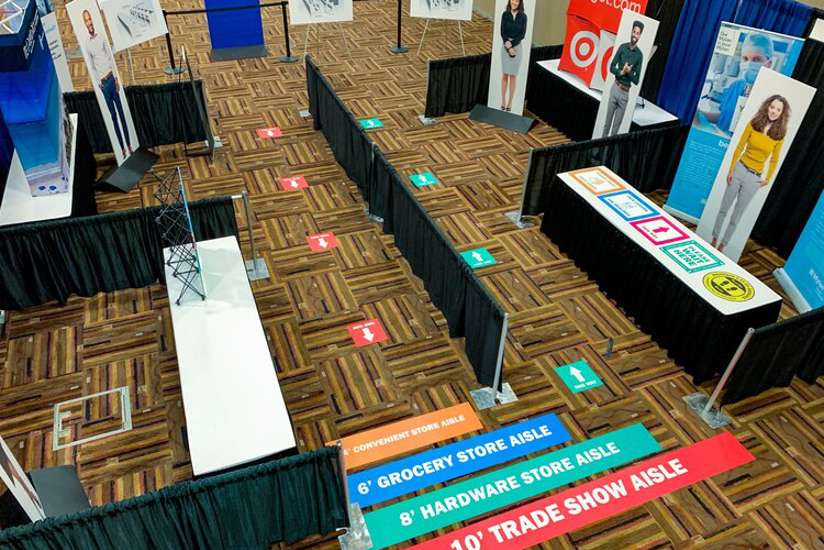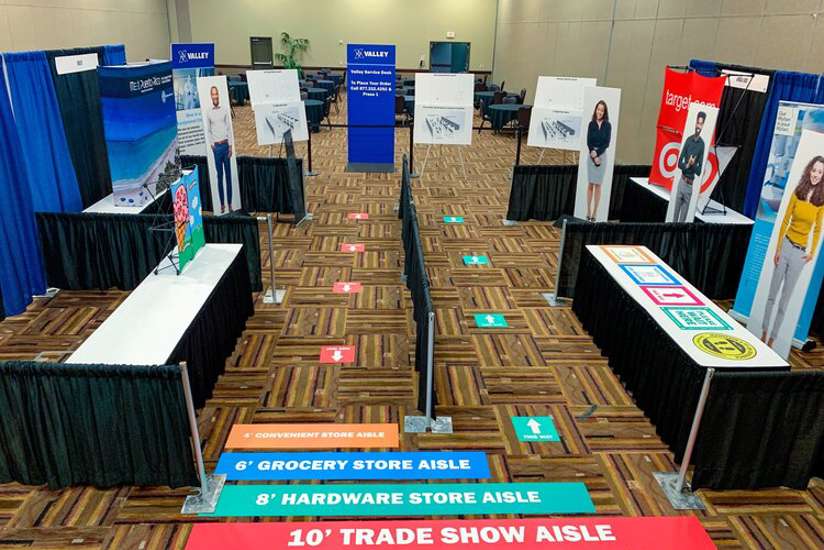 And don't forget to stay tuned as we take a explore more ways to safely return to in-person meetings in upcoming posts!